Tara Sue Sharp dotes over a skillet of mushrooms. She sips a cannabis oil-infused mocktail as she readies a meal for a small group of guests. Even though Sharpe has cooked these farm-to-table mushroom tostadas dozens of times before, she's extra careful now as she adds the key ingredient: a tablespoon of homemade cannabis oil slowly drizzled over over the already-simmering vegetables.
As the force behind PotLoveDinners, based in Framingham, Sharp and her partner Jon Yvon are one of a growing number of entrepreneurs that have built pot-adjacent businesses in the wake of marijuana's legalization in Massachusetts. Infused dinners in particular have made a splash in greater Boston, as local private chefs attract curious diners by pairing inspired dishes worthy of "Chef's Table" with cannabis and serving them in a safe space.
"We drew inspiration from the love of the cannabis plant, changing the stigma around consumption, and cuddling up in bed watching 'Bong Appetit,' " said Yvon.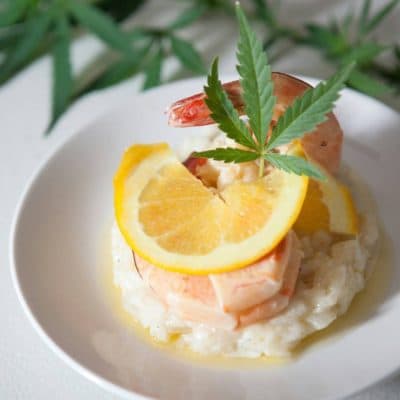 Chefs use oils, butters, tinctures and terpenes to infuse dishes with (usually) low doses of THC (tetrahydrocannabinol, the primary active ingredient in cannabis, which makes users feel "stoned"), and/or CBD (a non-intoxicating cannabinoid) so diners can achieve their desired high throughout the multi-hour meals.
Pushing far beyond the cliched edible fare of weed brownies, local cannabis chefs put food first: a country pork terrine wrapped in speck, presented alongside bread and butter pickles and a medicated asparagus puree; or a Georges Bank scallop crudo topped with lacto-fermented red onion, lime juice, toasted pepitas and CBD tomato salt.